Links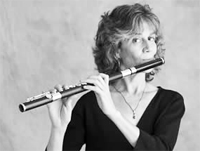 Kate Steinbeck
Kate Steinbeck is recognized internationally for her engaging and diverse performances, imaginative programming, innate musicality and beauty of tone.
Kate plays on a modern wooden flute manufactured by her husband, Chris Abell, of the Abell Flute Company.
Brannen Brothers Flutes
Every flute and headjoint bearing the Brannen Brothers name is handmade to exacting standards of craftsmanship, and every one displays the most advanced mechanical design and acoustic technology available in the world today.

Pan Harmonia
Pan Harmonia, Asheville's own chamber music company, offers a mosaic of concerts, educational residencies and community outreach. Directed by flutist Kate Steinbeck, this award-winning repertory company has been nationally recognized for its artistic excellence and creative vision.